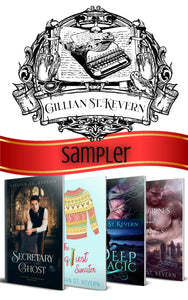 The Gillian St. Kevern Sampler
Regular price
Sale price
$0.00
Tax included.
Shipping
calculated at checkout.
---
An introduction to the works of Gillian St. Kevern in the form of four complete works, representing the different genres  she writes. 


The Secretary and the Ghost. 
Pip Leighton is in a fix.

His sister's marriage hinges on him staving off the family's impending financial ruin by taking the job of secretary to Lord Cross, a reclusive man with a temper befitting his name. Developing a passion for his employer was not on the cards. Neither was getting caught up in the deep mystery surrounding Foxwood Court and its resident ghost, but Pip has never been one to shirk a duty.


As Pip delves deeper into the past, he discovers that his only hope for a future with Cross may depend on a man long dead—a man with a curious resemblance to himself.

Written for lovers of gothic romance and ghost stories, The Ghost and the Secretary is the first in the Read by Candlelight series of novellas. A historical May-December romance with supernatural elements. 
The Ugliest Sweater.
Dan's favourite festive sweater is so ugly, it's cost him not one but three boyfriends and sent him back to his parents' place for the third Christmas in a row. About to give up hope of ever having a Christmas date, Dan meets Jake, a hot guy with a rock and roll edge. Jake is infatuated with Dan's sweater but vanishes before Dan can decide if Jake is for real or really in need of an eye-check. After all, no one has ever liked the sweater.
Dan's sweater is rocketed to national attention, when Jake's radio colleagues launch a hunt for the mystery man in the hideous jumper. Dan jumps at the chance to meet Jake again, and they hit it off in a big way, to the accompaniment of intimate gigs, exclusive clubs, and the paparazzi. Dan falls hard, but despite obvious mutual attraction, Jake refuses to take him back to his apartment. Is the relationship real – or a ratings stunt? After all, Jake has a reputation for cool that Dan, a lowly gym instructor, could never approach. Is a fondness for tacky Christmas clothing the only thing they have in common? Or does uber-cool Jake hide a Christmas secret of his own?
Deep Magic
Where does magic end and love begin?

Oliver Evans spent his youth spinning one tall tale after another until it got him over his head in trouble. Returning as an adult to his grandmother's cottage in Aberdaron, Olly is determined to put his past behind him and settle down. But the misty Llŷn Peninsula hides dangerous secrets. Olly is torn between the Longing, a powerful force driving him away from the only home he has ever known, and the growing conviction that the merman prince of his childhood make-believe is real--and in desperate need of Olly's help.

There is more truth in Olly's stories than he realises. If he is to have any chance of righting past wrongs and rescuing his prince, Olly must navigate the truth in his old stories and discover the magic right in front of him. But Olly has a powerful enemy on the ​Llŷn, an ancient king who would like to end Olly's story-telling permanently.
Thorns and Fangs
Nate is caught between two dangerously hot vampires who can compel people to do whatever they want and a ruthless necromancer who wants Nate for all the wrong reasons—and that's only the start of his problems.
Escort Nate prides himself on two things: his ability to please his clients and his normality – living in the monster capital of the world, ordinary is rare. Hunter, a darkly charming vampire with more charisma than is good for him, decides Nate is just what he needs. Nate's sympathetic nature and skill in the bedroom are put to the ultimate test. But Hunter wants Nate for someone else – his brother, Ben. Nate is immediately attracted by the control with which Ben holds his sensitive nature in force. Too afraid of becoming a monster to allow himself to feel, Ben struggles to resist Nate's generosity of emotion. As a vindictive necromancer makes Ben his target of revenge, Nate discovers that making people feel good doesn't compare to making Ben feel. As Nate's normal world crumbles around him, and he desperately searches for a way to save Ben, Nate is unable to escape becoming the necromancer's latest victim.
But Nate's death is only the beginning. Coming back to life in the bathroom of Gunn, a Department Seven officer who hates the vampire family that Ben and Hunter belong to, Nate doesn't know who to trust or even what he is. As the necromancer's trap pulls tighter around himself and Ben, Nate is forced to let go of normal and embrace powers he doesn't fully understand. In defiance of Ben's vampire sire and hunted by Department Seven, Nate and Ben finally learn to trust and rely on each other. But when the necromancer succeeds in capturing Ben, Nate alone can come to his rescue.